Me, my niece, sisters, brother-in-law, and mom
Graduation from Concordia, May 2001
I graduated from
Concordia University in Portland, OR in 2001. If you'd like to know more about my school, they advertise themselves very well at this site:
Concordia Homepage
.
Although I started out as a secondary education major, I ended up with a degree in English. Go figure. These things happen sometimes. I recently served a year in AmeriCorps as an elementary school reading tutor, which was great fun. I finally finished my undergraduate thesis nearly a year after graduation--anything you want to know about Victorian ghost stories, I would be happy to share.

Me as the Nurse in "Romeo & Juliet."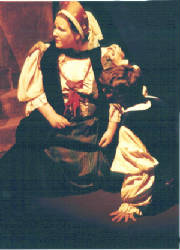 Remonstrating with Romeo: "Stand, an you be a man!"
I met the love of my life last summer, and we got married in January. If you look at the guest book, he's the one who says "I love you!!!" I love you too, Mike!!!
Wedding Reception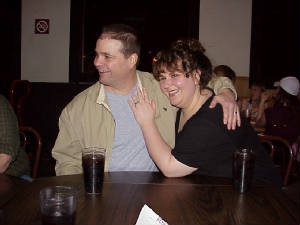 We had our "reception" at a local pizza place--a lot more fun than a stuffy church fellowship hall!

Playing pregnant in Children of Eden
"Where is the sun He said He would restore?. . . What is He waiting for? What is He waiting for?"
I'm still heavily involved in community theatre. My favorite roles since college have been Fantine in a concert production of Les Miserables, Aphra in Children of Eden, Miss Stephanie Crawford in To Kill a Mockingbird, and part of the ensemble in Godspell, with a solo part in my favorite song, "By My Side." I even filled in as soloist in "O Bless the Lord" a couple of times. Last summer, I was part of a local group called Shakespeare in the Parking Lot, and appeared in Brent Hartinger's Nunwars at the South Sound Playwrights Festival. My current project is "Bites of Broadway", a musical revue, in which I'm playing Portia from Cinderella and Fantine from Les Miserables.